When you're decked out at the beach you want to look hot and feel comfortable in what you're wearing. Rockabilly swimsuits are great for summer. not only are these vintage-inspired pieces sexy and stylish, they are also figure-flattering for all body types. Here are some of our favorite rockabilly swimsuits for summer 2017!
ROCKABILLY SWIMSUIT IN A ONE-PIECE

It is possible to look absolutely sexy in one piece! Our one piece rockabilly swimsuits flatter and flatten you in all the right places. These designs feature pin-up girl inspired prints like cherries, skulls, and nautical themes.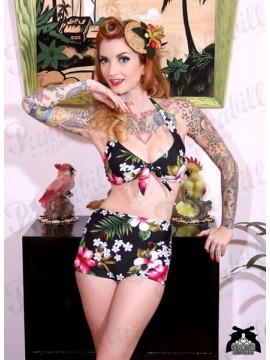 PIN UP BIKINI
Grab a two piece vintage inspired bikini and fall in love with its curve-hugging shape. High-waisted shorts make you feel sexy and secure, while our low dipping tops ruching in the bust to make sure your girls are looking their rockabilly finest.
PUNK ROCK TWO PIECE TRADITIONAL BIKINI
Looking to go for a more traditional rockabilly bikini and still maintain your edge? We feel you. Check out our strappy and sexy two piece rockabilly swimsuit featuring classic bikini bottoms and rock and roll prints.
No matter what your style, our rockabilly swimsuits have got you covered - literally!