Punk rock clothing for men, women, and kids are all at the same store. Here's how to get create a rockabilly wardrobe for the family.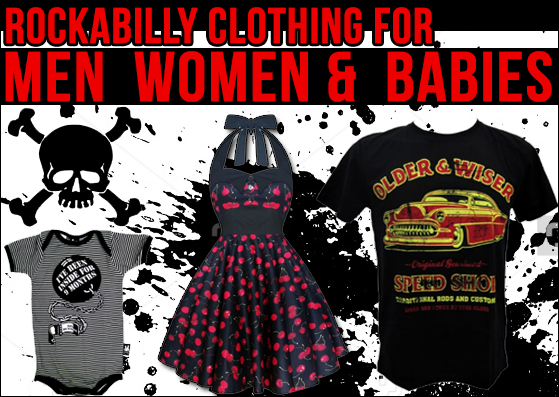 Who says you can't get a punk rock look for the entire family? At Yaguza we aim to please with our wide selection of punk rock clothing for men, rockabilly clothes for women, and even punk baby onesies for your little ones.

The family who rocks together stays together! Learn how to get a rockabilly wardrobe together in three items of clothing or less at the same store.
Punk Rock Clothing for Men
When styling punk rock clothing for men the key is to load up on the essentials. It doesn't take a lot of money or a dresser full of clothes to pull off the punk rock look you've been craving. Stick to the basics for your punk rock wardrobe.
Black pants. Jeans, Dickies, ripped, belted. Whatever choice you make just make sure they're black. This is a versatile pant that will work with whatever rockabilly aesthetic you're going for.

Jean jackets and leather jackets. Jean is back and leather never went out of style. These are quintessential staples of punk rock clothing for men.

A great rockabilly t-shirt for men. Choose classic staples like skulls and reapers to really show off your punk rock style. Check out our huge selections of rockabilly men's shirts to perfectly pull off your look.

Rockabilly Clothing for Kids
Why should your baby be left out of the fun? These rockabilly baby onesies will make your little one the boss of the in the neighborhood. From adorable puns to skull and crossbones baby onesies, these kids clothes make even the most adorable little one seem like the badass in town.Check out our selection of even more rockabilly kid's clothes!
Rockabilly Clothing for Women
Rockabilly clothes for women involve a couple of staple items. Start collecting these items to get your punk rock collection off to a running start.
Black leggings and high-waisted pants. Cigarette pants and black leggings are great bottoms for a rockabilly wardrobe. Black leggings can be worn in a punk rock statement or a sleek and chic look.
Hair accessories. Punk rock girls need their accessories, and our rockabilly hair clips are a great way to spice up any look. Check out our collection of rockabilly bags and body jewelry that'll make you stand out in the crowd.
A great rockabilly dress. Every girl needs a great rockabilly dress in her wardrobe. Wiggle dresses, full-skirts, and tea gowns are all must-have's for a fashionista looking to show off her pin-up charms.