Vintage cars are as much a part of rockabilly history as the greaser hair, pinup girls, and rockabilly music. Here are 4 amazing vintage cars.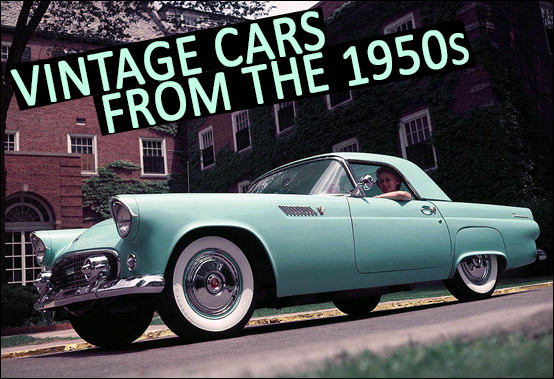 The 1950s was known for many things. Fashion, young love, and classic cars. Of course, they didn't know they were going to be classics back then. All the youth of America knew was they without a car, you were never going to get a date. We're looking at the most badass cars from the 1950s and 60s.
1955 Porsche 550 Spyder
This classic Porsche became known as James Dean's ride of choice. In the 1950's this Spyder Porsche was considered a pure racecar. This car was built low to the ground and had a light weight feel. With such speed, endurance, and America's bad boy behind it, it's no wonder this car became nicknamed the "Little Bastard"!
1957 Ford Thunderbird
When Chevy came out with the trendy and instantly classic Corvette, Ford came in with the 1957 Ford Thunderbird. Listed as a "luxury" car of the decade, this competitive model actually outsold the Corvette. This classic car came with V8 engine that shot out a whopping 245 horsepower. This car was classic cool and definitely drew in the rockabilly ladies.
1959 Aston Martin DB4 GT Zagato
This classic car became the vehicle to beat in the 1950s and 60s once it turned into James Bond's sleek ride. This high-performance vehicle was made with 240 horsepower and a six-cylinder engine. This was a powerhouse that was created for more than just a gentle ride on the block. Queue 007!
1965 Ford Mustang
The Ford Mustang remains an instant classic even today, but back in 1965, the world was welcoming the new model with open arms. The day before its release Ford advertised their new model across several television networks. The result? Ford Showrooms were literally overflowing with people who were in a frenzy to own the Mustang. Sales were over 22,000 cars in only the first day.
Classic cars remain a big part of Rockabilly culture, and for good reason. So slick back your hair, grab yourself a rockabilly girl, and get to a classic car show ASAP.